For nearly a century, HANTX has been building relationships with local, state and national elected officials, keeping them informed about issues that affect and impact our North Texas hotel and hospitality community.
Working together with our partners and with a unified voice, we are able to showcase the economic importance and impact our industry has on the local economy and workforce.
The Hotel Association of North Texas is a member of the Texas Hotel & Lodging Association and participates in "Converge on the Capital" during each Texas legislative session. We advocate on behalf of our members at a local and state level on issues that impact and are important and to the hospitality community and encourage our members to be part of our advocacy efforts.
To find out who represents you, please go to: http://www.fyi.legis.state.tx.us/Home.aspx.
Locally, HANTX stays on top of issues that are impacting our community and our members.  During COVID, we advocated for the safe reopening of North Texas with local and state officials.  In addition, we:
Saved some members tens of thousands of dollars as we worked with city officials to delay regulations that would have created a significant cost expenditure for members.
Stopped the enforcement on non-essential city ordinances until travel returns to normal
Worked with our city and county officials on a number of issues including housing, evictions, parking, and inspection fees on behalf of North Texas hotels
Communicated with our members throughout the pandemic on numerous issues and alerted them issues impacting them
In 2022, we continue to monitor races in cities across North Texas for any potential impact on the hotel and tourism industry.
The issue of Short-Term Rentals continues to grow in cities across North Texas as more cities work to address "party houses" in residential neighborhoods and the lack of regulation over their operations including non-payment of hotel occupancy taxes. Dallas is the latest city looking at the issue. We will continue to track this issue to assure a level playing field between STR's and the hotel industry in city regulations.
Across North Texas Federal and State Elections to Highlight November 8 Election. Candidates for federal and state offices have stepped up their campaign activities across North Texas and across the state. All the top state offices including the Governor, Lt. Governor and Attorney General are up for election this year as are all Texas House of Representative seats and some Texas Senate seats. At the federal level, all U.S. House seats are up for election. Neither U.S. Senate position in Texas is on the ballot this year.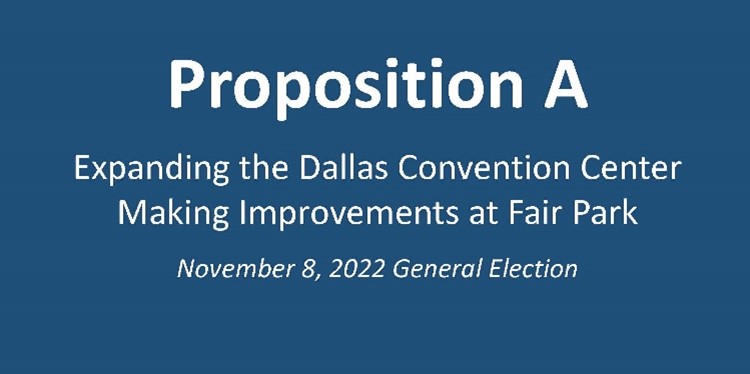 In Dallas, the ballot measure of most interest to the hotel and hospitality communities will be Proposition A. This ballot measure – placed on the November 8 ballot last month by the Dallas City Council – seeks voter approval to increase the hotel occupancy tax by two percent in support of expanding the convention center and making improvements to the city's historic Fair Park.
The hotel association plans to be active in support of Proposition A with voter registration campaign directed at hotel employees and an information effort directed toward the broader community on the importance of Proposition A to the hospitality industry.
If approved by voters, the new convention center is expected to catapult Dallas into the top tier of convention centers in the country and help Fair Park keep the Texas OU game as well as host large events such as the World Cup in 2026.
Construction on the Convention Center is projected to begin in 2024 with an expected completion date of 2029. Improvements at Fair Park would begin in 2024 with most being completed in time for the start of the North American 2026 World Cup games.
Statewide, the 88th Texas Legislative Session will convene in January 2023, and we anticipate issues will arise that will impact hoteliers in North Texas. We will continue to work with the TH&LA to keep you informed on issues which could impact your property.
If you have questions or need assistance regarding city ordinances or policies, please contact Traci at traci@hantx.org.
The 2019 Legislative Session produced very important results for the Texas lodging industry. Please see the Texas Hotel & Lodging Association
Report
on all the the legislative efforts from this past session.  Please see our 2019 Public Affairs Report -
Public Affairs Report Aug 19
.