Voter Information Toolkit
There are many things that can impact our industry from a national, state and local level. Our industry is an important one in North Texas and the decisions reached by voters in this election can impact our industry for the years ahead.
One way you can make an impact is by your vote.
For City of Dallas residents, Proposition A, will also be on the ballot this November (see early voting locations for Dallas).  This proposition allows cities to increase its hotel occupancy tax by two percent with approval by voters. This is the same mechanism the City used to construct the American Airlines Center which generated significant economic impacts for Dallas and the hospitality industry. Doing so will raise the total taxes and fees paid by hotel guests on overnight stays in Dallas to 17 percent.  The 2% increase in the HOT will be used to expand the Dallas Convention Center and make much needed improvements at Fair Park to draw more business and visitors to the area.
Please feel free to reach out to us if you have any questions or need additional information!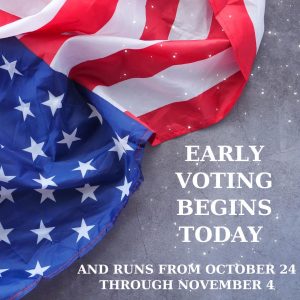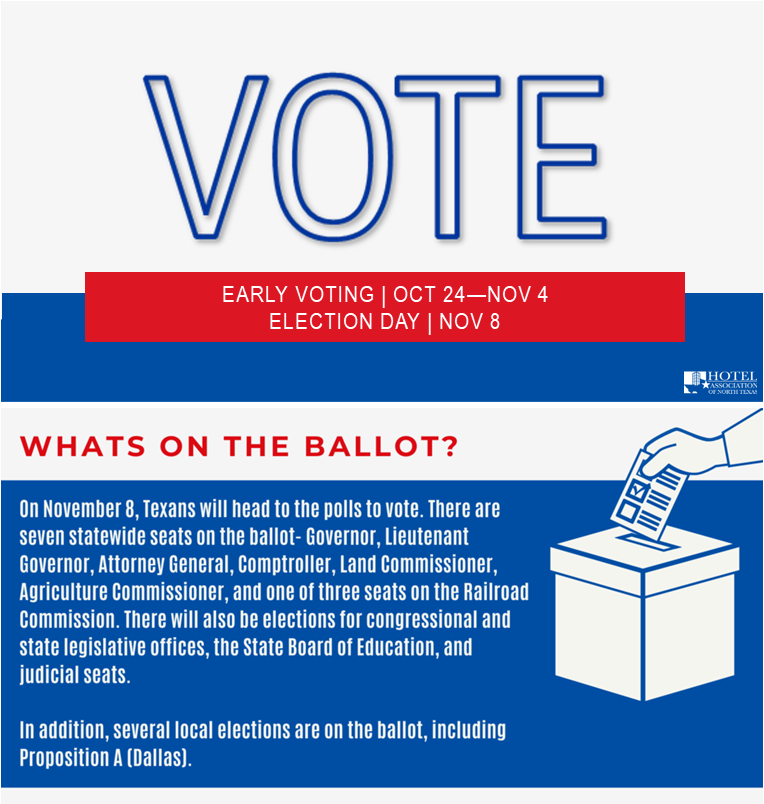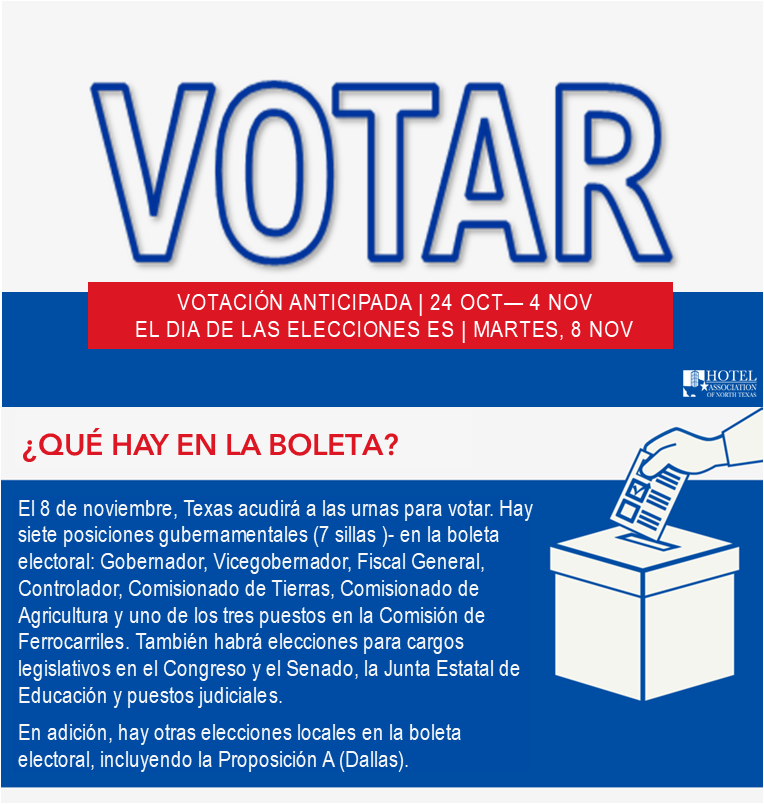 FAQ - Proposition A |
Preguntas Frequentes - Proposición A
THE VOTE THAT COSTS US NOTHING
CAN CHANGE EVERYTHING
$300 million in renovations for Fair Park including the Band Shell, the Music Hall, the Cotton Bowl, the Coliseum & two exhibit halls.
$1.2 billion investment in the expansion of the Kay Bailey Hutchison Convention Center Dallas (KBHCCD).
TU VOTO QUE NO CUESTA NADA
PUEDE CAMBIARLO TODO
$300 milliones de dólares en renovaciones para Fair Park incluyen Band Shell, Music Hall, Cotton Bowl, Coliseum y dos salones de exhibiciones.
Inversión de $1.2 mil milliones de dólares en la expansion de Kay Bailey Hutchison Convention Center Dallas (KBHCCD).
What is Proposition A?
Prop A enables the City of Dallas to raise money through a "tourist tax" mechanism — a 2% increase in hotel occupancy tax.
The improvements to Fair Park, Dallas' 277-acre Art Deco National Historic Landmark, were approved in 2020. The master plan includes $300 million in renovations to the Automobile Building, the Centennial Building, the Band Shell, Music Hall, the Coliseum, and the Cotton Bowl.
Plans were approved in February 2022 for $2 billion for a revitalized Convention Center District that will connect the Kay Bailey Hutchison Convention Center Dallas to neighboring entertainment districts and create a destination for visitors and locals alike. It also paves the way for linking parts of southern Dallas to Downtown with a walkable deck over I-30 to connect to the Cedars District.
Who will pay for all of this?
Prop A creates a "tourist tax" to fund $1.5 billion in improvements, with no increase in property or sales taxes for Dallas residents. People who stay overnight in Dallas hotels will pay a 2% increase in the nightly Hotel Occupancy Tax (HOT) rate, bringing the HOT rate to 15%. The HOT increase is estimated to raise $1.5 billion over 30 years.
Why does this matter to me?
The Dallas convention is in serious need of repair and infrastructure improvements that is costing Dallas convention business. Over 1000 meetings have not come to Dallas because of the sad shape of the convention center and it is losing high end business because of the center's lack of meeting room space.
Fair Park has been plagued by infrastructural issues that patch work fixes will not resolve. Fair Park now risks losing long-standing, marquee events – like the annual Texas/OU Weekend
The new center as currently proposed will catapult Dallas into the top tier of the convention centers across the county, if not the top center in the country. It currently ranks outside the top ten.
It will increase the number of visitors and meetings coming to Dallas which means more overnight stays in Dallas hotels.
Because we expect a new convention center to double the number of meeting attendees coming to Dallas, we expect greater compression to occur, creating more business for all hotels in Dallas, including those on the outer ring of downtown.
More business for hotels means more job opportunities for employees and Dallas residents
As designed, the new convention is expected to have around it an entertainment and retail center creating more things for visitors and residents to do around Dallas.
Once completed, the renovations at Fair Park will offer an enhanced visitor experience, opportunities to host more events at the park, and create more over-night stays for the hotel industry.
The slight increase in in the HOT should not impact our ability to lure meetings and visitors to Dallas. All the major cities Dallas competes against for meeting business have rates at or near 17%. Most of the major cities in the nation Dallas competes against for meeting business are also at or near 17%.
The above referenced items are being provided to you as background and educational information to assist you in understanding what Proposition A is on the November ballot.
¿Qué es Proposición A?
Prop A permite que la Ciudad de Dallas recaude dinero a través de un mecanismo de "impuesto turístico": un aumento del 2% en el impuesto de ocupación hotelera.
Las mejoras del Fair Park, el monumento histórico nacional de estilo Art Decó de 277 acres de Dallas, se aprobaron en 2020. El plan maestro incluye 300 millones de dólares en renovaciones del Edificio del Automóvil, el Edificio del Centenario, el Band Shell, el Music Hall, el Coliseo y el Cotton Bowl.
En febrero de 2022 se aprobaron planes por valor de 2.000 millones de dólares para un revitalizado Distrito del Centro de Convenciones que conectará el Centro de Convenciones Kay Bailey Hutchison de Dallas con los distritos de ocio vecinos y creará un destino para visitantes y lugareños por igual. También se prepara el camino para unir partes del sur de Dallas con el centro de la ciudad con una cubierta transitable sobre la I-30 para conectar con el distrito de Cedars.
¿Quién pagará por todo esto?
La Prop A crea un "impuesto turístico" para financiar $1.5 billones de dólares en mejoras, sin aumentar los impuestos sobre la propiedad o sobre las ventas para los residentes de Dallas. Las personas que pasen la noche en los hoteles de Dallas pagarán un aumento del 2 % en la tasa del impuesto de ocupación hotelera (HOT) por noche, lo que elevará la tasa HOT al 15 %. Se estima que el aumento HOT recaudará $1.5 billones durante 30 años.
¿Por qué esto es importante para mi?
El centro de convenciones de Dallas necesita urgentemente reparos y mejoras de inftraestructura. Este factor es importante ya que estamos perdiendo negocios de alto nivel con otras ciudades por la forma en que se encuentra el edificio y la falta de espacio de salones de reuniones.
Fair Park ha estado plagado de problemas de infraestructura que los arreglos minimos no resolverán. Fair Park corre el riesgo de perder eventos destacados de largo plazo, como el Texas/OU juego que se celebra anualmente.
El nuevo centro, tal como se propone actualmente, catapultará a Dallas al nivel superior de los centros de convenciones de todo el condado, si no al centro superior del país. Actualmente Dallas se encuentra fuera de los diez primeros.
Aumentará el número de visitantes y reuniones que vienen a Dallas, lo que significa más ocupancia en los hoteles de Dallas. Esto también significa que otros hoteles fuera del area de downtown de Dallas, puedan ver mas negocio y ocupancia.
Más negocio para los hoteles significa más oportunidades laborales para los empleados y los residentes de Dallas.
Tal como se diseñó, se espera que el nuevo centro de convenciones tenga a su alrededor un centro commercial y de entretenimento que creará más actividades para los visitantes y residentes en Dallas.
Una vez completadas, los renovaciones en Fair Park ofrecerán una mejor experiencia para los visitantes, oportunidades para organizar más eventos en el parque y crear más oportunidades para la industria hotelera
El pequeño aumento en el HOT(impuesto de ocupación de hotel) no debería afectar nuestra capacidad para atraer reuniones y visitantes a Dallas. Todas las ciudades principales con las que Dallas compite por negocios de reuniones tienen tasas de impuesto cercanas al 17%.
Los factores a los que se hace referencia anteriormente se le brindan como antecedentes e información educativa para ayudarlo a comprender qué es la Proposición A en la boleta electoral de noviembre.